Students have been working on a huge musical timeline this year.  This year, we featured composers.

As you can see, students really filled up the timeline!  We added familiar composers students had played as well as learning about some new ones.   The composers' age is reflected in the length of their name card.  This made it easy for students to see relative ages, who was contemporary to whom, and also to see who is still composing today.  We listened to compositions and discussed facts about the lives of the composers.  It was really interesting to learn so much about both familiar and unfamiliar musicians.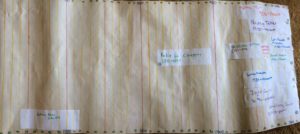 We had so much fun with this project, we had to add a second side so we could keep adding composers!