In the fall, students started building a musical timeline.  Each composer get their own strip of paper, and students write on their name and dates.  Students often like to add other information too, such as a list of some well-known compositions.  We've included composers students are familiar with and have played and have also added some new composers students may not have heard of, which gives us a chance to learn about new music.  Students have also suggested and added a few of their favourites.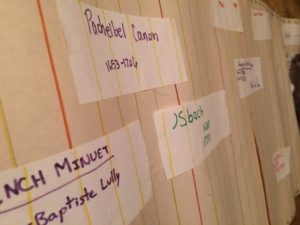 We have been filling up the modern era really fast, so the opposite side of the timeline has been marked with dates as well so that we can continue adding composers even if we run out of room on the first side.
We'll continue adding composers as the year progresses – you can look forward to more pictures in June, when you'll get to see the timeline filled up!