This year the studio hosted a Spring Festival.  Students were invited to attend as many of the five events as they wished.
Our first two events featured special guests.  Melissa Goodchild was invited to give a workshop on improvisation.  She brought over a whole bunch of percussion instruments for students to try out as a part of her workshop.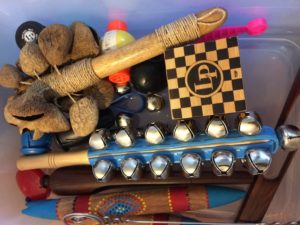 Tuesday, Janna Willard discussed composition with students.  Prior to the festival students have worked on composing by ear as well as experimenting with aleatory (chance music – some students wrote pieces with the help of dice).  Thus, it was really interesting to meet a local composer and learn about a different method of composing.  We got to learn a little about how theory and composing can work together.
Wednesday, we made composer collages.  This year's composer of choice was J. S. Bach.  Whilst the collage was put together we listened to music by this composer, looked at instruments from Bach's time, and discussed fun history facts.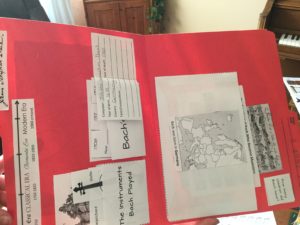 Thursday was the music games night – students were invited to come over and play some of the studio's musical games.  These focus on a variety of areas of theory ranging from beginner to advanced levels, so  there were games for students of all ages and years of study.  Having the chance to try out some new games is a fun way to learn!
The week ended with a mini-recital.  This was very well attended – many students came, as well as some family members.  Students had a chance to play multiple pieces for each other, and had time for a few group activities at the end as well.
Thanks to everyone who came out to these events.  It was wonderful to have some guests in the studio and for students to have a chance to try out some new and interesting musical activities.  I'm looking forward to planning next year's spring festival!