The studio's spring recital was today. It was a fun concert! Students celebrated all their hard work practicing this year by playing some of their favorite music.  Puffy the puffin enjoyed hearing everyone's lovely playing.  He had the front seat in the house – right on the piano!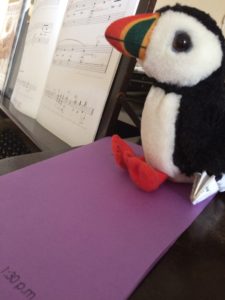 Performances included pieces for solo piano, piano duets, and a few pieces for clarinet and piano.  It was one student's birthday, so a student and I played Happy Birthday to finish off the concert.
A 'food bank reception' followed the concert.  Instead of eating food ourselves, we collected non-perishable food items for the Saskatoon Food Bank.  Brainy came along to help with collecting the food.  He was really proud of everyone for all the food they brought!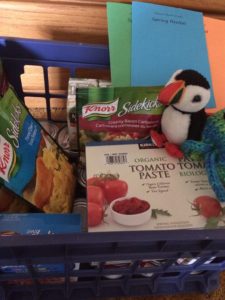 Students stayed after the concert to play some music games. It was a fun way to end the concert. Thanks to everyone who came out to listen!  The students appreciate your support.