Students in the studio often work on compositions in lessons! Composing music is a great way for students to express themselves, to get a chance to utilize their creativity, and also to learn how to express their musical ideas.
Some students write by ear, coming up with music in their heads or on their instruments first, and then writing it down. Other students figure out their music during the writing process. We have also tried writing music via dictation – students tell me what to put down, and I write down what they have told me or played me. This is really effective for students who are just learning, or when lessons are on line.
As an added bonus, writing music is also a great way for students to get a chance to practice their music theory skills! Writing down a melody is a great melodic or rhythmic dictation practice, and students who dictate their pieces to me are learning how to communicate in the language of music.
As you can imagine, a lot of this made for quite a lot of work for students! After their pieces were finished, I put the book together, then in many cases, students had to help with editing – making sure they had all the dynamics and notations they wanted in their music, titling them, and making sure they all looked as they were supposed to in the final book. It went through a number of "editions" before the final version was printed off for students!
The music program I use also creates midi files, so students were also given access to a downloadable recording made by the program of what their pieces sounded like.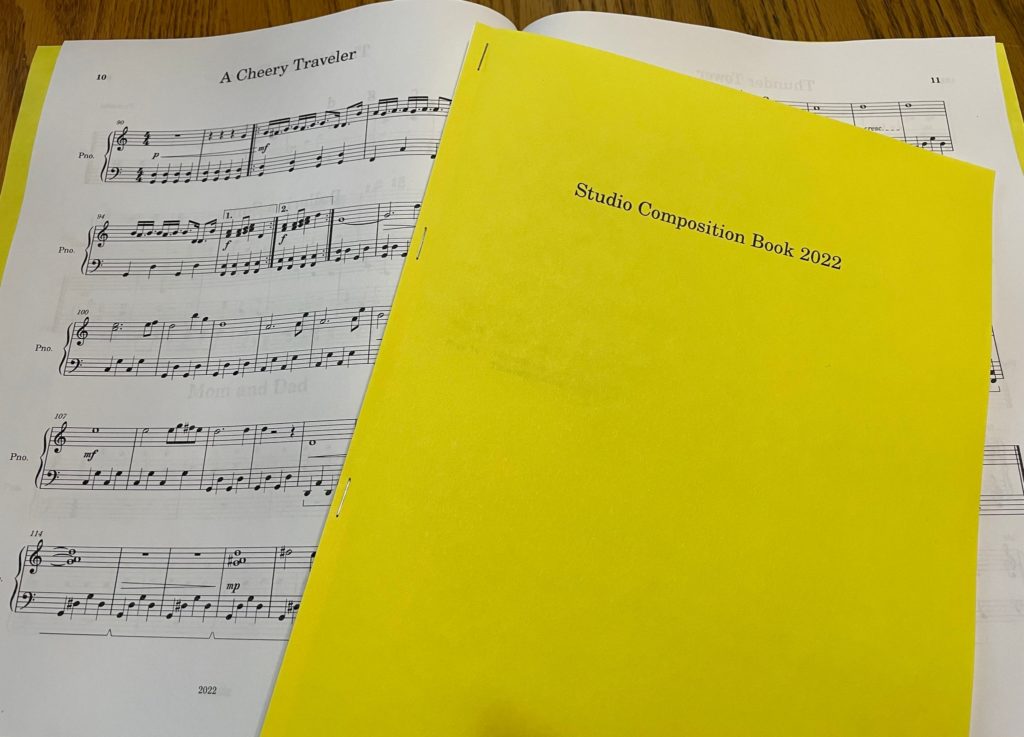 This was a really fun new activity for the studio! I'm looking forward to putting a new book together next year, and I already have ideas for new things to try next time! Thanks everyone for participating, I congratulate students on all their hard work on this project!