This year in the studio, we had composer elections. This was a fun way to learn a little about music history whilst celebrating the fun of voting!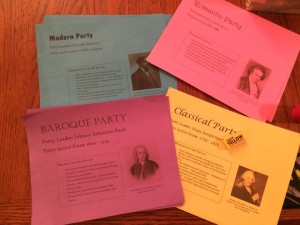 As you can see, there were four parties running this year.  They were:
the Baroque party – leader, J. S. Bach
Classical party – leader Franz Joseph Haydn
Romantic party – leader Ludwig van Beethoven (who crossed the floor from the Classical party)
Modern party – leader Claude Debussy
To learn about these parties, we kept track of all the pieces played by students, listing them by era.  We checked out some books of historical instruments, historical dress, and made timelines featuring musical and-non musical facts.  We also listened to some music from these composers.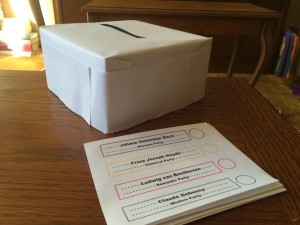 Voting ended on the 19th of October, and here are the results:
Baroque party: 20%

Classical party: 10%

Romantic party: 40%

Modern Party 30%
91% of eligible voters cast a vote.  We celebrated the end of elections with a mini recital, playing pieces from various eras and finishing with some music/music history games.  Thanks to all my students for participating.  This was a fun way to start the year, and a great way for students to get to know the history of the music they play a little better.