This year in the studio, students are collecting badges for the hard work they're doing practicing and preparing music.  Badges can be earned through a variety of means.  Some badges come from attending studio events, others from learning songs in their method book, practicing ear training, beating a high score in an educational music game, etc.  There are many badges for students to try and acquire.
For the last week of lessons before the end of term, students will be invited to make their own badge – this badge will be to celebrate something they think they have done well this term.
There are a few tricky ones that students can attempt to achieve if they are feeling ambitious.  For example, the gold level practicing badge is achieved by a student practicing 50 days in a row.  The bronze level practicing badge is given out for practicing 14 days in a row, and the silver level for 25 days in a row.  I can provide a calendar to track if students are interested in trying to achieve this badge.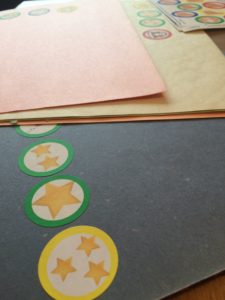 Students will continue collecting these through the new year, and will be able to take their sheets home in June.  If you would like to see all the badges you child has earned, pop into the studio and take a look!  I also have a full list of all badges available – parents are welcome to stop by during the lesson and take a look at this list.
It takes a lot of hard work and practice to learn to play the piano or clarinet!  These badges are a great way of celebrating all the different accomplishments students achieve during their lessons.  I'm looking forward to seeing all the badges students achieve this year!